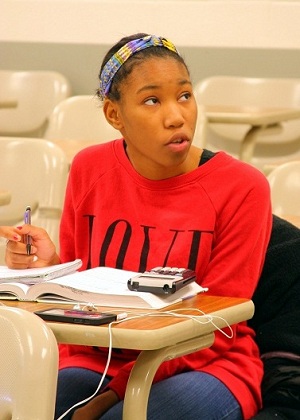 The WrightMath Enrichment Program, founded in Fall 1994, assists high achieving students from under-represented minority groups who are planning careers in mathematics, business, psychology, nursing, science or engineering. The program encourages committment and a cooperative learning atmosphere.
Students participating the in the WrightMath Program follow a special weekly schedule consisting of three components:
Four regular 50-55 minute lecture classes
Three Supplental Insruction (SI) sessions led by a student leader who has successfully completed the course
Two Problem Workshops led by the instructor with the assistance of the SI leader
The students also participate in a learning community in which they take at least two or three non-math General Education courses together. The program and learning community experiences allow the students to develop close bonds as they work and study together.
Most participants remain in the program for at least one academic year or until they have completed the math requirements for their degree. An additional benefit is that all WrightMath Program participants are provided with "loaner" math textbooks to use while they are in the program at no charge.
Interested students should contact the WrightMath Coordinator to see if they are eligible to participate in this program.