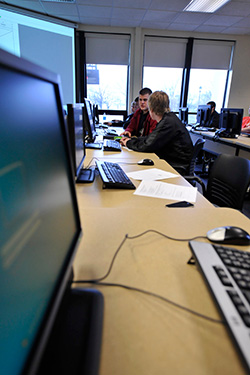 In order that undergraduate students be able to succeed in completing their math and statistics requirements, it is important that they be placed in courses appropriate to their level of knowledge and ability. Each undergraduate math class up to Calculus I has been assigned a placement level. A student registering for one of these math classes must meet the placement requirements before being allowed to take the class.
High School Math Deficiency
All students entering Wright State University are expected to have completed three years of mathematics, including Algebra I and Algebra II. Students who have not done so are considered to have a high school math deficiency.
Any student who has a high school math deficiency must take DEV 0970. Students who need to take MTH 1450 for their major can take DEV 0970 at the same time as MTH 1450. Acceptable alternatives to DEV 0970 to remove a math deficiency are MTH 1280, 1310, 1340, 2240, 2280, 2300, 2310, 2320, or 2330. Students must still fulfill the proper prerequisite(s) for these courses.
Download: Math Placement Chart (.PDF)
Requirements
Before an undergraduate student can take a mathematics class at Wright State University they must either:
Have an ACT score equivalent to the required WSU placement level for the course in quesion. See the Math Placement Chart above.
​OR
Have transfer credit from another college or university equivalent to the prerequisite course taught by Wright State University. Visit the Transfer Credit Information page to learn more. 
OR
Take the Wright State Math Placement Test and make the required placement level for the course in question. It is strongly recommended that the student spend some time reviewing before taking the placement test. If a student doesn't take a math class within 1 calendar year of taking the placement test, the student will have to re-take the test (see Who Needs to Take a Math Placement Test?).  The test can be taken on campus in Room 042 of Dunbar Library or at certain off-campus locations. Details can be found at the registration link below.

Visit the Math Help page for useful review websites.
Students currently taking AP credit math courses in high school will still need to take the placement test. Students attaining a minimum ACT-Math score of 27 or SAT-Math score of 620 who have met all of their high school's math requirements may be exempted from taking the math placement test. Contact the University Testing Coordinator to see if you qualify for the exemption.